OGRE – 2018
This year a new hockey coach Andrey Ignatovich – a Latvian national team player, who many times participated in World Championships, has joined our team #KIDSHOCKEY.LV. In the future, Andrey will share the secrets of hockey with our children and hand down his rich experience to our young generation!
We also would like to remind you that in 2017 our preparatory training was also attended by hockey players from Latvia, Lithuania, Estonia, Belarus, Norway, Finland, France, Denmark, United States and Russia.
Our team recommends our boys always to develop and improve new knowledge learned and skills acquired. Every year we strive to be more and more successful, keeping pace with the modern hockey. See you on the ice!
The enrolment was start on February 1. Do not miss!
List of necessary things in Ogre
Training equipment:
Two hockey sticks (one for on-ice training, the other for training on asphalt), full hockey equipment (skates to be sharpened!!!), transparent adhesive tape and scissors, a floorball stick, a plastic puck (preferably a green biscuit – it slides better to asphalt), a jump rope, a stretch mat;
The rest of the equipment is provided by the coach
Personal belongings:
Sports suit (2 pcs), shirts (a clean shirt for each day), a cap, shorts, sports shoes (2 pairs), socks (one pair for each day), underwear for change;
2 towels, slippers (for hotel and shower), shampoo, soap, toothbrush, toothpaste and other hygiene products;
Drinking water for hotel ~ 1-1.5 litres, still water for every day (preferably 0.5 l bottles); drinking water bottles, drinking water will be available in the ice hall locker room;
Books, magazines, a mobile phone (will be left at the coach and will be given to the child for 30 minutes each night), table games, balls, etc;
Pocket money ~ 1.5 EUR per day (every evening we will go to the store next to the hotel);
Medicine:
Medical certificate from a sports doctor or a general practitioner – obligatory (will be returned after the camp);
Medication (if the child needs it);
It is necessary to warn the coach before the camp, whether there are special characteristics of a child, restrictions on physical ability, recent illness or injury;
Daily regime:
7:45 – wakeup, morning exercises
9:00 – breakfast
10:00-11:00 – on-ice training, work on foot
11:15-12:30 – comprehensive physical fitness, special physical fitness / gymnastics
13:00-13:30 – lunch
14:00-16:00 – day sleep
17:00-18:00 – on-ice training, work on hands
18:15-19:30 – comprehensive physical fitness, special physical fitness / gymnastics
20:00 – dinner
20:30 – mobile phones, store
21:30 – meeting
22:00 – night sleep
Information by phone: +37126714266, camp head and coach Eduards Diļevka.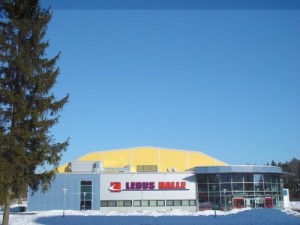 www.vidzemesledus.lv
---